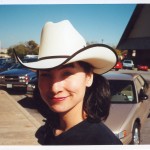 Jenifer Nakatsu Arntson ‬has designed and produced bags and accessories since 1993. She earned a Fine Arts degree from UT Austin and has a background in design, graphics, metal arts, leatherwork, costuming, and prop making. She endeavors to spread the love of craft to adults and children; her own and those whom she has taught locally and abroad, in her family's native Tokyo and Kyoto, as a co-host of Stylelicious for the DIY network, and an instructor at Stitch Lab.
Jenifer thanks her lucky stars for early art & craft exposure, a long line of family creatives, great opportunities to expand skills via mentoring by master-level artists, and for well-timed encouragement. Design and maker culture is grafted into Jenifer's DNA, and Jenifer has a reputation in Austin for exceptional craftsmanship, an eye for detail with a focus on design, construction, detail, quality and function, and has participated in the Blue Genie Holiday Art Bazaar since its inception, and other events such as Austin City Limits, Handmade Austin Women, Stitch, LadyFest, etc as well as sold goods nationally from San Francisco to New York.
"When I am not at the studio, I am on my way there. Thank you very much for your support and for buying my work! xox Jen A"
P.S.: I also offer sewing and die-cutting services, please check out my Services page.